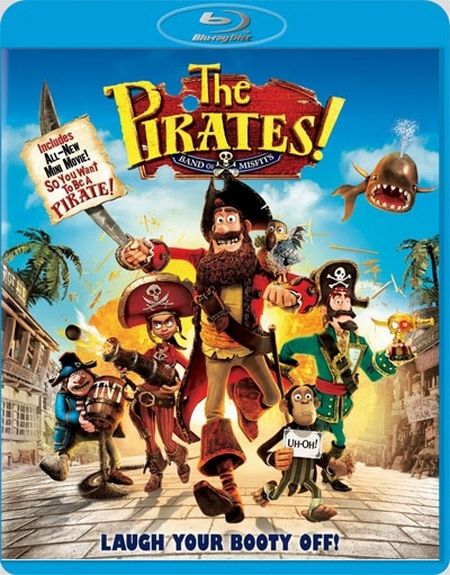 http://www.imdb.com/title/tt1430626/
Ratings: 6.9/10 from 6,601 users
[FORMAT]:…………………..[ Matroska
[AWARDS]:…………………..[ None
[GENRE]:……………………[ Animation | Adventure | Comedy | Family
[FILE SIZE]:………………..[ 599 MiB
[NO OF CDs]:………………..[ 1
[RESOLUTION]:……………….[ 1280*544
[ASPECT RATIO]:……………..[ 2.35:1
[FRAME RATE]:……………….[ 23.976 fps
[LANGUAGE ]:………………..[ English
[SUBTITLES]:………………..[ muxed
[ORIGINAL RUNTIME]:………….[ 01:28:00
[RELEASE RUNTIME]:…………..[ 01:28:00
[SOURCE]:…………………..[ Rx
[ENCODERS NOTES]:……………[ Although small sized re encoding is a flawed concept but still we always strive very very hard to preserve MAXIMUM DETAILS within our rips. Hope you enjoy them as much as we enjoy working on em 🙂
After years of humiliation and failed attempts to win the coveted Pirate of the Year Award, Pirate Captain and his oddball crew take on the cream of the pirating crop – Black Bellamy, Peg Leg Hastings and Cutlass Liz – in a race to pillage the most booty. They soon cross paths with lovelorn scientist Charles Darwin, who persuades the Captain that the crew's prized 'parrot', Polly, could be the answer to the 'untold riches' they are searching for. Their adventure takes them to Victorian London where they meet Darwin's sidekick 'man-panzee' Mister Bobo, and the notorious pirate-hating Queen Victoria herself. It soon unfolds that Darwin's motives for helping the crew are not what they seem, and the Queen has an evil hidden agenda of her own. The Pirate Captain must choose between basking in the glory of being crowned Pirate of the Year, or staying faithful to his trusted crew.
COPY THE LINK AS TEXT AND PASTE IN A NEW WINDOW/TAB TO ACCESS
password : 300mbunited
muxed
RAR PASSWORD : ultrascorp
PROTECTED TINYPASTE/RTIFY PAGE PASS : 300mbunited
—————————————————————————–
IMPORTANT :
1.. PASSWORD/CRC ERRORS : redownload the files showing errors while unraring
2.. Comments are closed for all, There is no LOGIN functionality.
3.. ONLY MULTIPLE 100MB LINKS : as one of our Goals is to provide support to LOW bandwidth folks.
4.. USE CONTACT FORM : to convey dead links and suggestions, we ll try our best.
5.. ALL WE ASK FOR is your support !! thats it.
—————————————————————————–